Two years ago, I was house hunting. I was stretching my budget and myself for such a big investment. Updating your home is a never ending process. We continually are generating new ideas to make things better. Painting the living room has been a discussion that has occurred several times and taking down the flowery curtains was something that just needed to be done. (This made my husband very happy.) Flowers are beautiful but we needed an update and thanks to my GORGEOUS Mamacita, who pushed me to start the project we did! I couldn't of done it without you mom! Mom, I love you so much thanks for being my loyal blog commenter! I LOVE YOUR comments! I also noticed I have a new blog follower, thanks so much for coming along on this journey of life! I hope you all enjoy!
School has ended and summer is in FULL swing and so is Grad School! I have 3 papers due on Friday, that I just found out about yesterday, and yet I am blogging, but I figure this is fun and will help my brain ease back into the formality of papers, yet once again. I honestly never thought I would go back to school after I finished my Bachelors in Elem. Ed./Early Childhood/Spec. Ed. I mean seriously those 2 majors and minor took me 5 years and I student taught in 3 different places. The good Lord knew just what to do with me though I don't regret where I am for the world and am so eager to get back into the swing of writing. Writing is soothing for me, and though I will never be published in the New York Times, being able to get my thoughts out is soothing!
June 4th the living room went from this look...
To This!!! Do you love it? Can you see all the differences?
What do you think? Mom and I found the leaf pillow at Target and just couldn't resist! And then I recovered all of the white pillows and went to Jo-Ann's to pick out fun fabric!
The pillows aren't done yet but there is another fabric for the valance in the kitchen and another brown for smaller pillows which I picked up for a quarter at a garage sale and took the cover off and just used the batting. I will post those pictures once the pillows and valance are done!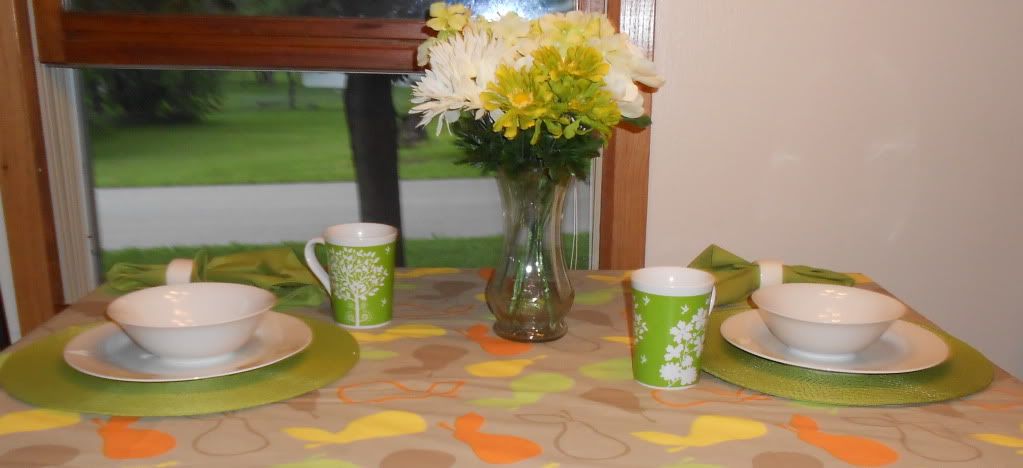 Kitchen! :-) I love green! All of the dishes are from dollar tree! :-)


Needless to say, he isn't quite sure about the gate thing yet! He keeps trying to push them down with his nose.
Before the spray painting of the coffee table and recovering pillows.
What a difference little things make!
It all started on Saturday night... the taping was the longest process and needed almost 3 rolls since we had to go around so much!
Here we go the before and after...
Another update is the new work bench my husband built! I'm so proud of him! :-)
** Changing topics***
Beautiful baby shower for Ann and Amanda!
Molly, Me, and Theresa!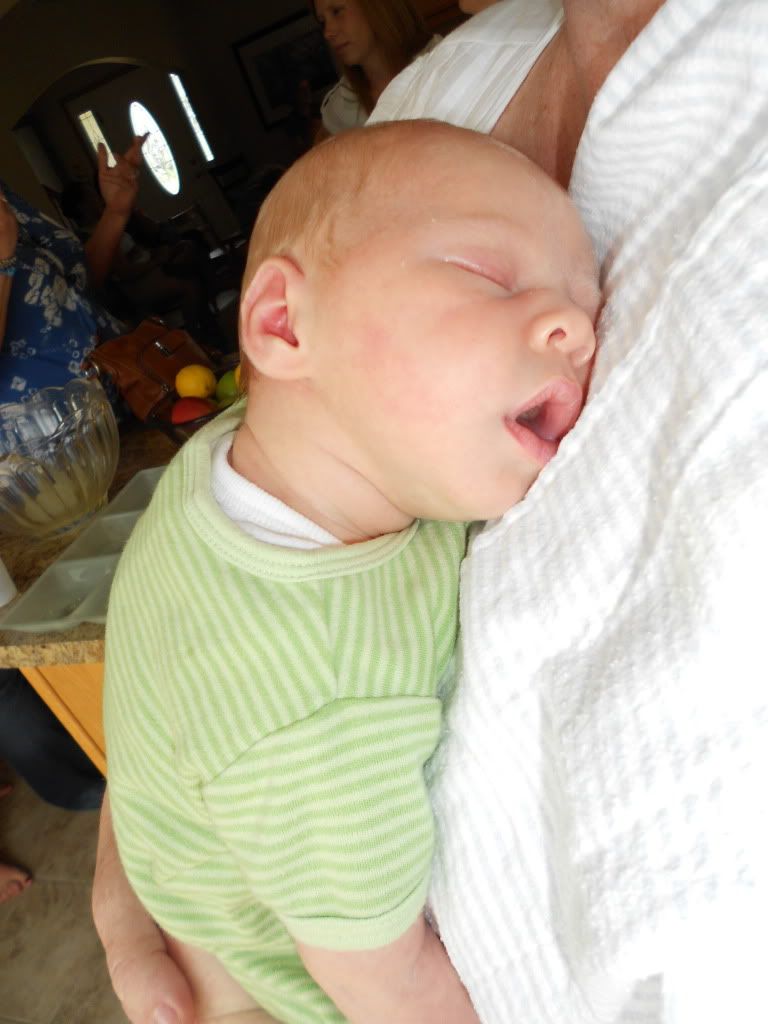 Beau was zonked out! :-)

******************************************************************************************
We now have a place to keep out shoes organized and I love it! :-)
************************************************************
The garden is growing beautifully and we are excited to see what it produced. We have planted too many tomatoes so let me know if anyone wants tomatoes because I'm sure we be giving them away very shortly! :-)
Can you see the peppers!! :-)
This past weekend we went on our date night for June. We try to have a date night at least once a month. We ate at Joe's Crab Shack and loved it! The waitress brought Husband a bib for his steampot and she really listened to him. I cracked up because if you know Nolan this is what he always says and the waitress wrote it on his bib!
Then we went to the movie Super 8, which I highly recommend, very good! The day we headed to Shellsburg, IA to go to Nolan's cousin's wedding! We had a blast! Congrats Jesse and Danielle!
The Benge Clan at the wedding!
A 4 generations photo! :-)
Us!
We are off to go on a bike ride in this beautiful weather! We are warming up Ragbri! No.. no.. no just kidding, I could never do Ragbri! I hear it's a lot of fun though! I'd rather just stick to my Yoga! Now my fingers are all warmed up and ready to do a lot of typing!! ;-) haha