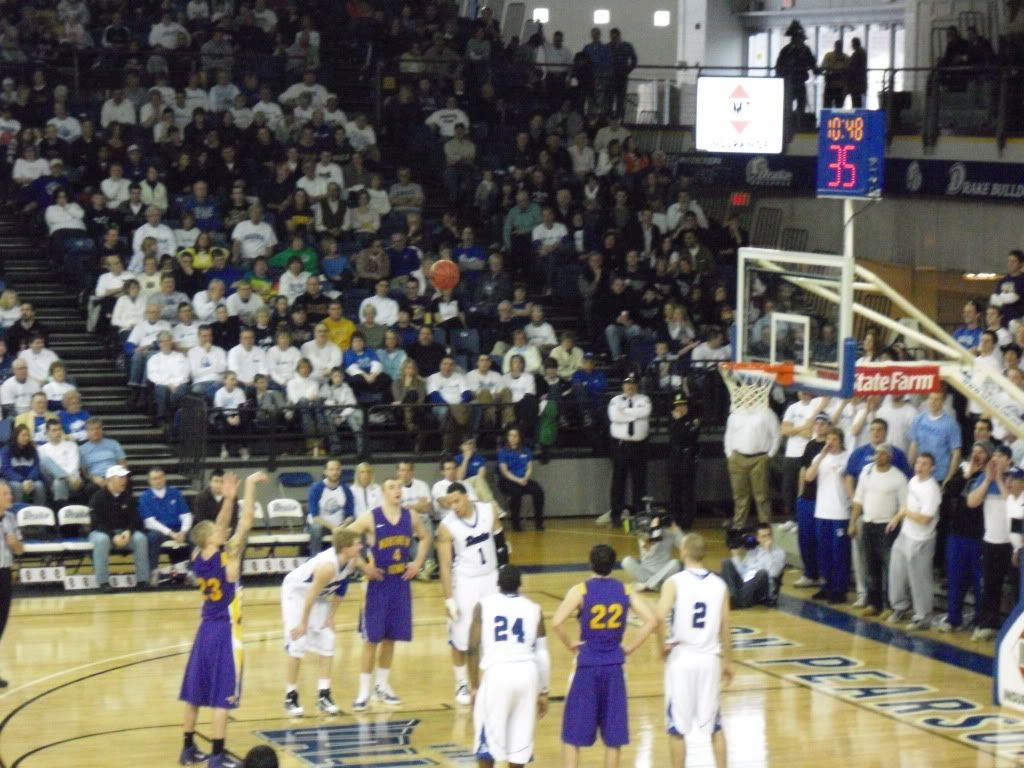 UNI missed a lot of free throws that really cost us the game.

(the birthday boy's choice of course)
A very happy birthday boy!
Complete with a candle and chocolate covered strawberries! Delightful!! :-)

It was finger-licking good!

We head home and packed up the car to go ice fishing, LOML was so excited!
Add 1 tsp. vanilla
2 tsp. baking soda
4 1/2 C. oatmeal
Stick in 1 1/4 C. chocolate chips:
I just crush up a cup of M&M's and put them in:
Pat down lightly in a greased jelly roll pan:
Bake @ 350 for 15 min. * Don't over bake.*
Enjoy!
Playing in the snow!
We also went sledding, which was a blast!
I got to celebrate with my 2 favorite teachers. I couldn't have gotten that piece of paper with out them! They are the best and I love you both! :-)

Then, when I got home last night! Kirbster thought daddy's Daniel Boone hat needed to be chewed....
Can you say naughty boy....

My husband purchased me a BRAND SPANKING NEW VICKI!!!! (aka. a vicks vaporizor) That fog you see is steam! It is FAB and I'm obsessed with VICKS!!! My old VICKI died a couple weeks ago and I had her for almost 5 years! LOML knew how important it was to me and that I had been waking up all dried out, and I hate that feeling of first off being cold second being so dried out you can't even think.
A couple of people have mentioned to me that they like my new purse. I got it from my mom for Christmas, but I found the website so you can learn more about it and how to help women in Africa.
The hat my SIL made and I adore it!!! She crocheted it herself, I only hope to one day be as good as her, but for now here is the progress on my blanket!